Because everyone should feel comfortable
GONSO. PERFECT. FIT. - Behind this promise are decades of fitting expertise. This is what Heike Schönemann is responsible for at GONSO. The cut specialist is an absolute expert in the field of cycling clothing and ensures that every pair of cycling shorts fits perfectly. In the interview, she gives deep insights into her work and GONSO's fit expertise.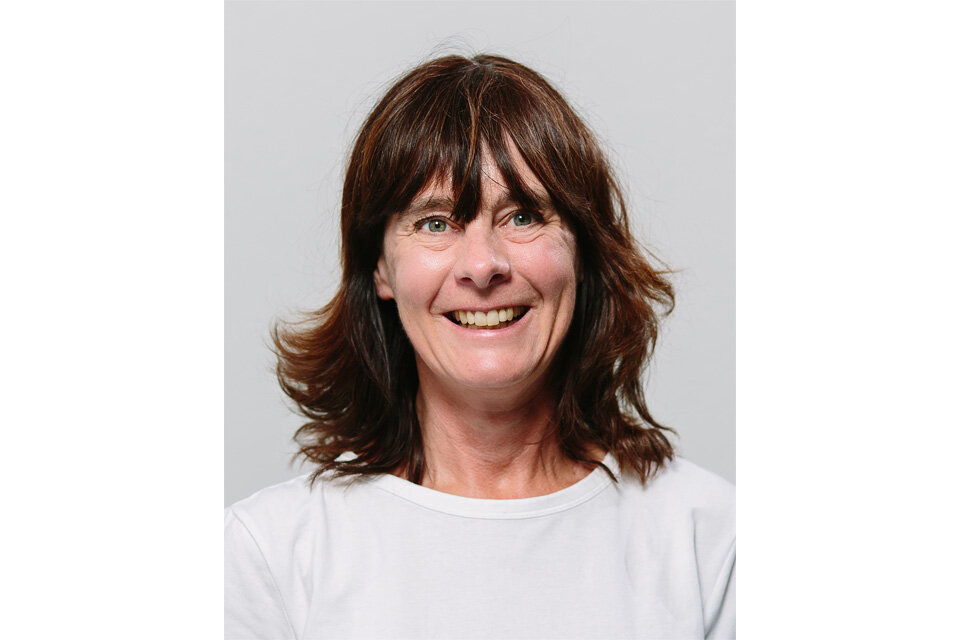 What size range does GONSO offer for women and men? Does this extend across the entire collection or are there exceptions?

For women, the entire GONSO collection is available in sizes 34–52. We also have certain bike shorts models in short sizes 18–26. For men, the range goes from S to 6XL, with some products being available in short and/or long sizes: K24–K33 and L94–L118.

GONSO has grown into a size specialist with a wide range of products. Our aim is to motivate people of all sizes to exercise and to support them in taking care of their health. It's important to us not to exclude anyone. Whether large or small, compact or slim – everybody should have the same variety of choice at GONSO and the chance to wear their favourite pieces. Our premise is to make everybody feel comfortable in our functional bike gear and to enable them to enjoy cycling to the fullest.

Which criteria does Gonso use for the different sizes and why?

The sizing of our women's collection is based on the professional data of Hohenstein Institute. These values are based on ongoing statistical serial measurements. To this end, approximately 10,000 women and their exact body measurements are recorded and analysed using the latest 3D technology.

These values are continuously adapted as economic and social factors have a significant impact on body shapes and sizes.

For men, we rely on our decades of expertise and know-how when it comes to fits and cuts. In this segment, too, we review our sizes and constantly adjust them to ongoing changes.

Are there uniform guidelines (at national, European or international level) that are used as a basis or does such a thing not exist?

Body shapes and sizes are very different around the world. To meet the requirements of a wide variety of international markets, it's essential that we take these different requirements into account. At GONSO, we focus on selling to the European markets, which is why we also focus on European cuts.


There are different sizes (S, M, L, XL or 34, 36, 38, ...). Why is that and what's the difference?

In the women's collection, GONSO focuses on standard sizes. These are much more detailed, more individual and offer a more precise fit. The reason for this is that the jumps between the individual sizes are much smaller (for example, the difference between each size for bust size is about 4-6 cm).

Are there size differences between jackets, shirts, vests and shorts? Is a pair of shorts in size L proportionally larger than a jersey in the same size, for instance?

At GONSO, each size is based on identical measurements, regardless of layer or garment category. In other words, each size covers the entire range: from underwear to jerseys, vests and jackets, right through to our shorts and trousers. We only adapt the widths in order to meet the different requirements of various activities. Here we distinguish between: Loose Fit, Semi Fit and Tight Fit. The exciting thing is that body proportions and tastes are also very unique. For example, there are men who are generally very slim but larger around the belly and need shorts in size M and tops in size L or simply feel more comfortable in a larger size. There are also women who have stronger legs but an extremely slim upper body.

Does Gonso also differentiate between sizes within individual collections, so that a person needs size M in the bike touring collection, for example, and size S or L in the road bike segment?

No, GONSO doesn't differentiate between sizes within individual collections or across categories. As mentioned above, we only distinguish between different widths (i.e. fits). It's mostly a matter of personal comfort, but everybody can decide for themselves what size they feel comfortable in and whether their road bike jersey should be sporty and tight or one size larger and a little wider.



How do cyclists know what size is right for them? Which measurements are relevant for tops and which ones for shorts and trousers? What role do the intended use and the saddle position play?

We've designed a graphic that everyone can use as a guideline for measuring themselves. They can then compare their measurements with the table we've provided and determine the right size with confidence.

The intended use or the saddle position play an important role in cycling gear. That's why we use models on bikes to adapt all our cuts.

A seated and pedalling bottoms needs an additional 7 cm in length compared to the standing position, for instance. The back must also be longer when the upper body is bent forward on the bike and the sleeves require a little extra length with the arms extended towards the handlebar as opposed to pointing downwards.
Are there any production-related factors that affect clothing sizes? Are there certain materials which simply can't be processed in certain sizes/shapes? And what challenges must be taken into account?

Thanks to our know-how and cut expertise, we have an enormous amount of experience and know exactly how much fabric we need to factor in for seams etc., so that the finished product is consistent, functional and exactly the specified size. Having our own production facilities with a very low staff turnover, we're able to train and develop the skills of our seamstresses very well to meet the challenges of processing elastic fabrics or sewing in seat pads precisely and accurately. This competence is immensely important when it comes to producing high-quality products.

To what extent are cuts and clothing sizes used deliberately for brand modelling? Does GONSO use more casual cuts to position itself as a casual or leisure-oriented brand, for example, or particularly tight-fit cuts to present itself as a brand for very sporty cyclists?

In our collections, we focus on the following disciplines: bike touring, mountain biking and road biking. Our main target group are pleasure-oriented cyclists who prefer a more casual fit. In the road bike segment, our collection is a little sportier and offers a more body-hugging fit than in the other categories.

Why are bike shorts considered to be the most complex piece of cycling gear?

Bike shorts are the most complex piece of cycling gear because they need to meet many, sometimes contrasting, requirements. On the saddle, they're exposed to vast amounts of centric pressure and, at the same time, they're subjected to additional stress because of the constant motion. The seat pad should compensate this pressure point in the best possible way and provide adequate cushioning, but not at the expense of comfort and direct contact with the saddle. As a general rule, a pair of bike shorts should be comfortable, offer enough freedom to move and sit perfectly in every position.

This requires a perfect fit, which in turn is essentially the result of a precise and cleverly chosen seam design and sewing technique. The optimal placement of the flattest possible seams requires a great deal of expertise. Every little detail plays a role in whether or not the final product is comfortable.

That's why the leg ends mustn't cut in or curl up and the waistband shouldn't be tight or slip up. Everything must stay exactly where it is. In addition, anatomical and gender-specific differences, but also an infinite number of individual body shapes and measurements have to be taken into account.

A great deal of experience and know-how is needed to meet these complex challenges, especially meticulous coordination of the perfect interplay between materials, cuts, seams and sewing techniques.

GONSO has been addressing these issues in great detail for decades and is constantly investing in and working on further enhancements. GONSO is known for its versatile and innovative solutions and product variants and has made a name for itself as a bike shorts expert.

What do you have to pay particular attention to when developing bike shorts and trousers?

In general, getting the position of all the important details right is key. The positioning of the seams, also known as seam pattern, is responsible for ensuring that the fits perfectly and has the ideal shape. It's crucial that this seam pattern is chosen strategically – in places where it can't cause friction.

Apart from that, the seat pad must be positioned in exactly the right place. It mustn't be placed too far towards the front nor too far towards the back – that would be counterproductive and cause painful chafing as a result of friction. What's more, we select our materials an cuts in line with the intended use.

What makes a perfect fit in a classic, tight-fitting pair of bike shorts?

They shouldn't crease and must fit like a second skin to prevent friction. The cuts, seam patterns, sewing techniques and materials used are responsible for the perfect shape. To guarantee a good fit in the long run, the material must be high-quality, elastic, but also dimensionally stable.

Why are there different types of bike shorts and trousers?

Each of our audiences – whether road cyclists, mountain bikers or bike tourers – has different wants and needs in terms of cuts, fits, features, materials and seat pads. It also makes a difference whether someone's an occasional or a frequent cyclist and whether they cycle long or short distances.

To serve as broad a target group as possible, we offer different concepts. Our SITIVO bike shorts concept caters for different saddle positions, for example, offering customers three different types of padding and different types of shorts (tights, bib, shorts). With our newly launched, innovative SQlab bike shorts, we're pursuing a completely different strategy. The padding is much thinner and firmer. It absorbs unwanted shear forces using medical-grade TPE gel and offers a more direct contact. These bike shorts are suitable across disciplines. They're true "problem solvers", because they reduce friction across their surface.

A lot depends on personal comfort and individual needs and wants though. There will never be a "one size fits all" option when it comes to bike shorts and trousers. That's why we can make recommendations for target groups, but to find your ideal pair, it's always best to try on different models.

no color variants found: 103415
no color variants found: 103488
no color variants found: 203796