Let's ride together
GONSO x Melli
Our goal is to develop cycling clothing that is not only highly functional, but also makes you feel good on your bike. Our cycling shorts in particular are therefore continuously subjected to an intensive process in which we develop, test and optimise. It is important to us to understand every little detail in order to be able to offer the best possible solution.
To meet this demand, we do not only work on new products within our team. We also get feedback from partners and customers, which is incorporated into our product developments.
I'm Mara, product developer at GONSO, and together with Melli (Instagram:_die_Melli) I recently spent a day on the road bike around her hometown of Innsbruck. After all, what better place to talk about cycling shorts than on a bike?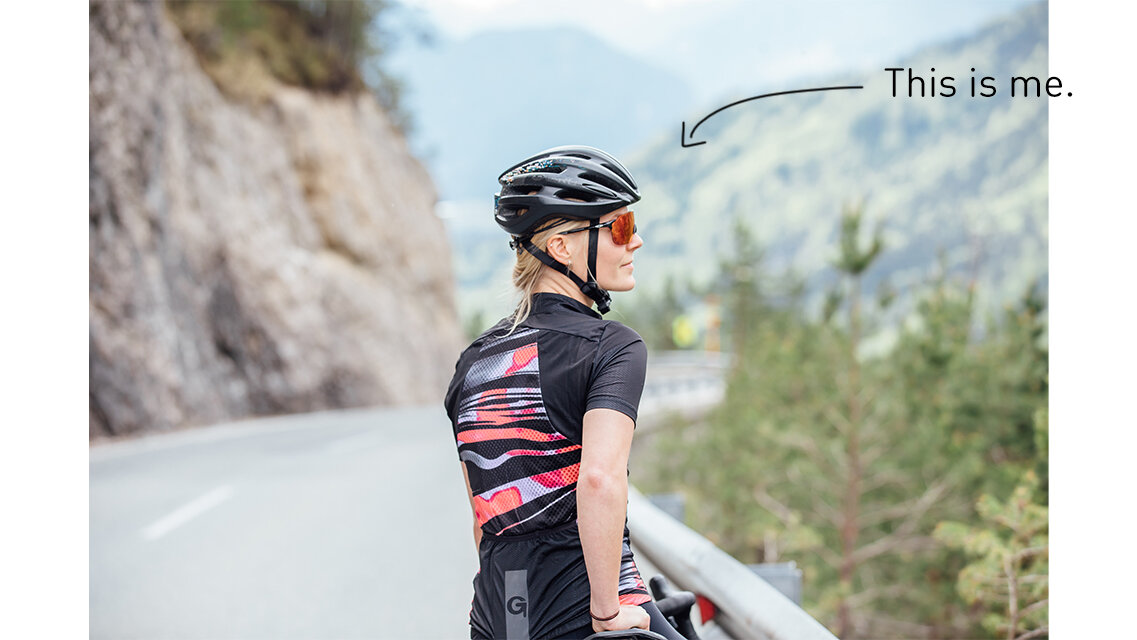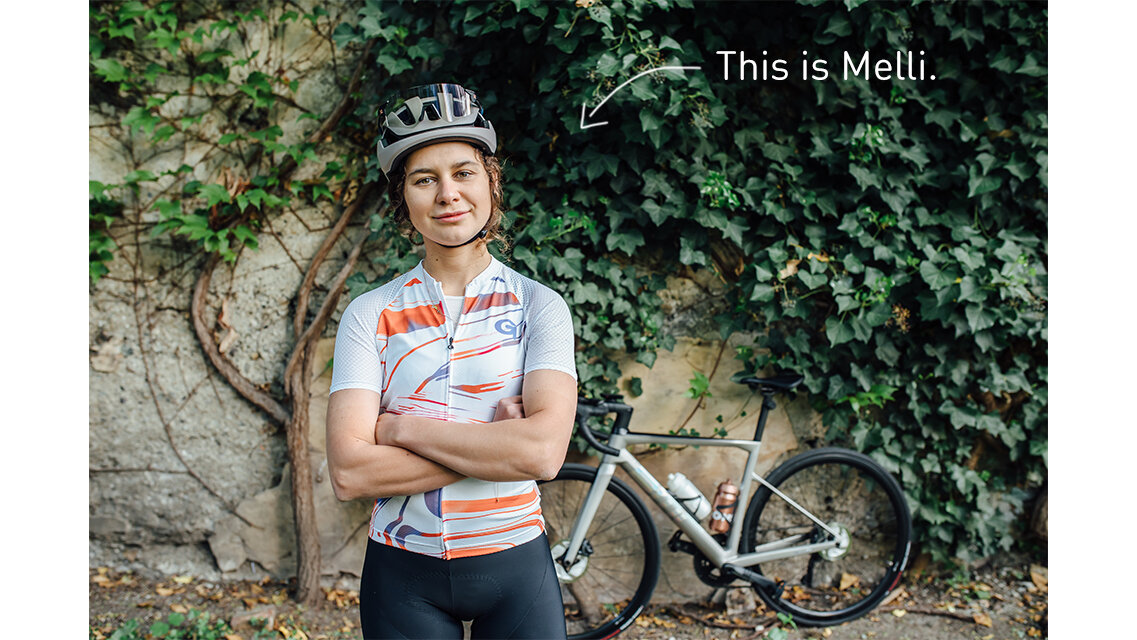 Melli is part of our extended Gonso circle and has been with the brand for quite a while. As a true outdoor enthusiast, the Tyrolean is outdoors more than indoors. She enjoys spending time in the mountains as often as possible.
Whether it's trail running, cycling or, in winter, skiing - road cycling is a particular passion, which Melli also enjoys as a solo mission on the mountainous roads in Tyrol, on Lake Garda or under the sun of Mallorca. The versatile Tyrolean shares her passion on Instagram (Instagram:_die_Melli), among other places.
And then again to me: Of course I also love to sit on my racing bike or mountain bike. The combination of hobby and work is just perfect for me and I can always benefit from it in my daily work as a product developer.
Melli and I don't know each other personally yet, but only through our numerous emails. However, the constant exchange about our products gave us the idea to simply start a joint session on the road bike at Melli's home in Innsbruck. And it was exactly this plan that we implemented quite spontaneously a few weeks ago. So on a Friday morning I stood with my bike in bright sunshine in front of Melli's parents' hotel in the middle of Innsbruck.
Melli welcomes me this morning with a cup of coffee and tells me what to expect today. We have a lot planned and are happy about the good weather in Tyrol. Our destination is above the Inn Valley near Brandenberg and is supposed to be one of the most beautiful side valleys of the Tyrolean lowlands. Just under 120 kilometres and a little over 1200 metres in altitude are on the programme. The route along the Brandenberger Ache is one of Melli's favourites just outside Innsbruck.
We roll comfortably out of the city - the panorama even in the middle of Innsbruck is amazing! Even for Melli as a local, the mountains around Innsbruck are always a new highlight, as she says.
Melli works as a cook and loves to be creative in the kitchen. Through her job, she has travelled a lot and has been on duty in Indonesia/Bali, Mallorca, France and Italy, among other places. The many impressions and different cultural influences can now be found on the plates she serves to guests and friends. Besides being a chef, Melli is in the final stages of her management studies. Her goal is to combine her enthusiasm for food with management topics.
And then there is also art. During a first short break in the green, Melli tells me that it has always been important to her to do her own thing. In addition to professional self-realisation and the intensive pursuit of her hobbies, the Innsbruck native is also interested in art. And not from a purely consumer perspective, but "Melli like", hands-on, in the form of a talented painter who creates exciting works of art in the basement of her home, according to the "upcycling principle". She loves to breathe new life into old boards, metal plates, plexiglass panes or even tables with her art.
In the meantime, we have travelled a good distance east along the Inn Valley and take a sharp left turn in Kramsach in the Lower Inn Valley. Now the aforementioned 1200 metres in altitude come into play. We follow the well-surfaced road to Brandenberg, which lies at just over 900 metres.
And even though we are both gripped by sporting ambition, we still have enough air to philosophise about the perfect cycling shorts, the right food for female cyclists and many other topics while scrambling uphill. Kilometre after kilometre flies by.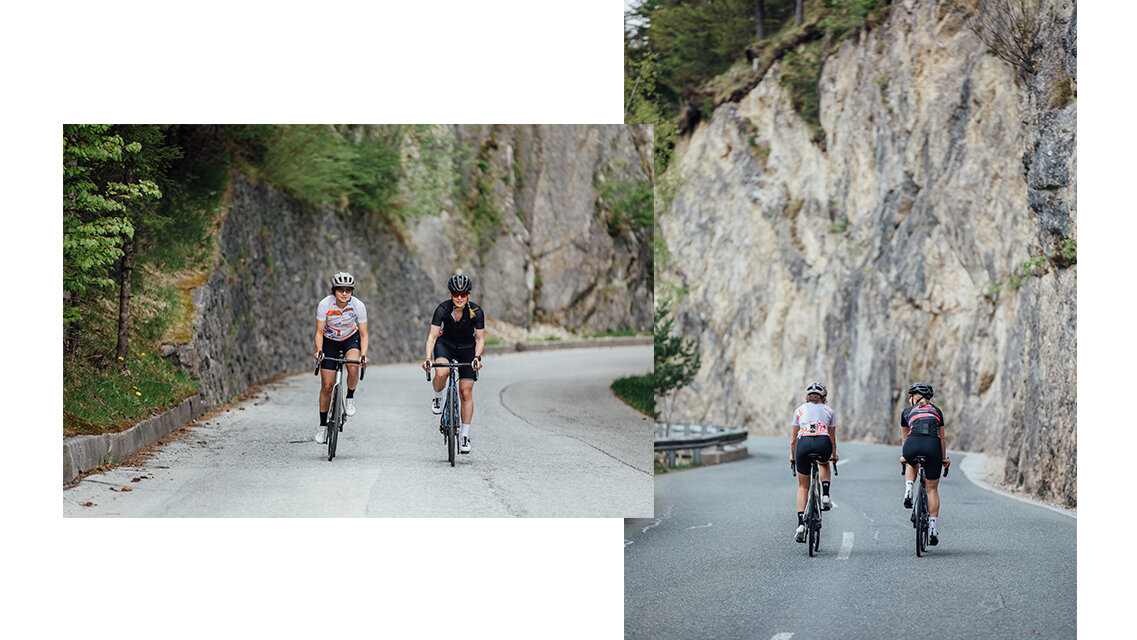 The winding route takes us past an impressive gorge, through sleepy mountain villages and small forests. Melli feels reminded on this section of the route of the narrow serpentine roads in Mallorca, which she visits at regular intervals.
After a good three hours we arrive at the end of our tour on a high plateau in Pinegg, where we take a lunch break and enjoy the magnificent view. My trip to Tyrol was worth it not only for that, but also for the valuable feedback Melli gave me on the fit and materials of our new summer collection.
We enjoy the sun for a while and then roll leisurely back down into the valley, where we cool our feet in the Brandenberger Ache before heading back to Innsbruck and the starting point of our tour. An hour later I'm sitting in the car back to Köngen and reflecting on the good conversations and beautiful kilometres cycled. I also took away a lot for my daily work. And if we're being honest... this is the part of my job I love the most ;)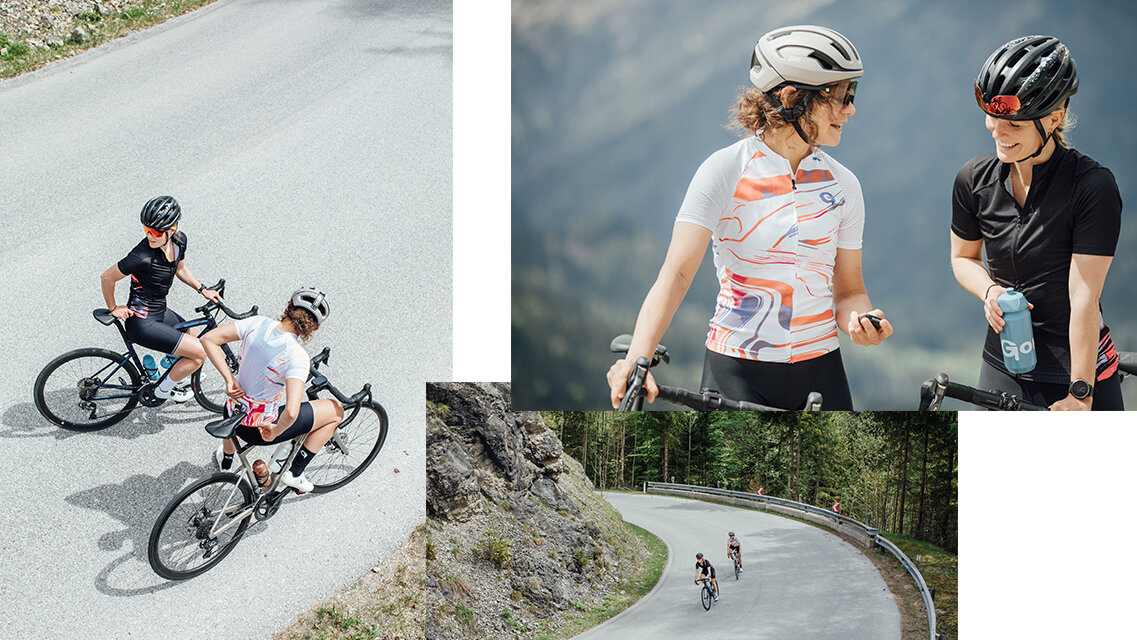 Melli is a big fan of our SQlab GO BIB W. She loves the thin padding and the sporty fit of the bib shorts. In the summer temperatures, the particularly airy ZAZAR road cycling jersey is the right choice for the Innsbruck native.
"I really like the shorts because they never slip and even on longer tours with 200 or more kilometres I don't have any seat problems - and what more could you want from a pair of cycling shorts? ;)"