Alpine crossing
A dream for many cyclists! We've explored the hype for ourselves and we'll also let you in on the must-have gear that shouldn't be missing from any Alpine crossing backpack.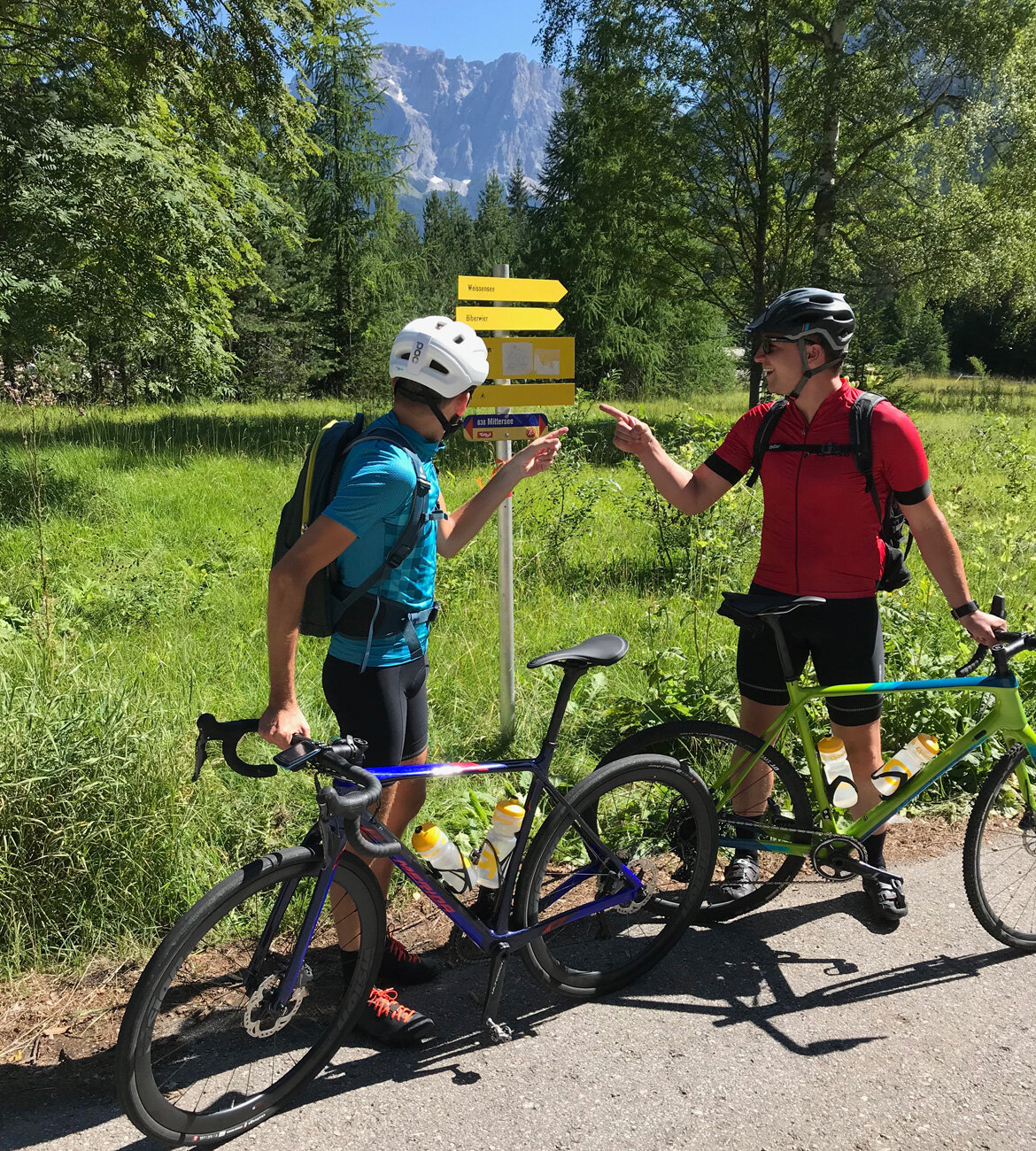 Crossing the Alps on a gravel bike in 3 days
Our aim was to cycle to Lake Garda taking an Alpine route in three days, so we decided to travel the Via Claudia Augusta from Ehrwald to Riva del Garda on our gravel bikes. Having packed our bags and slipped into our GONSO bike shorts, we set off on the first leg of our journey from Ehrwald to Lake Reschen on Day 1, Crossing the Fernpass and passing Imst and Landeck, we steadily pedalled up towards the tripoint between Germany, Austria and Switzerland. After our ascent to Reschenpass, we had already accomplished our first 100 km and 1.4k of altitude.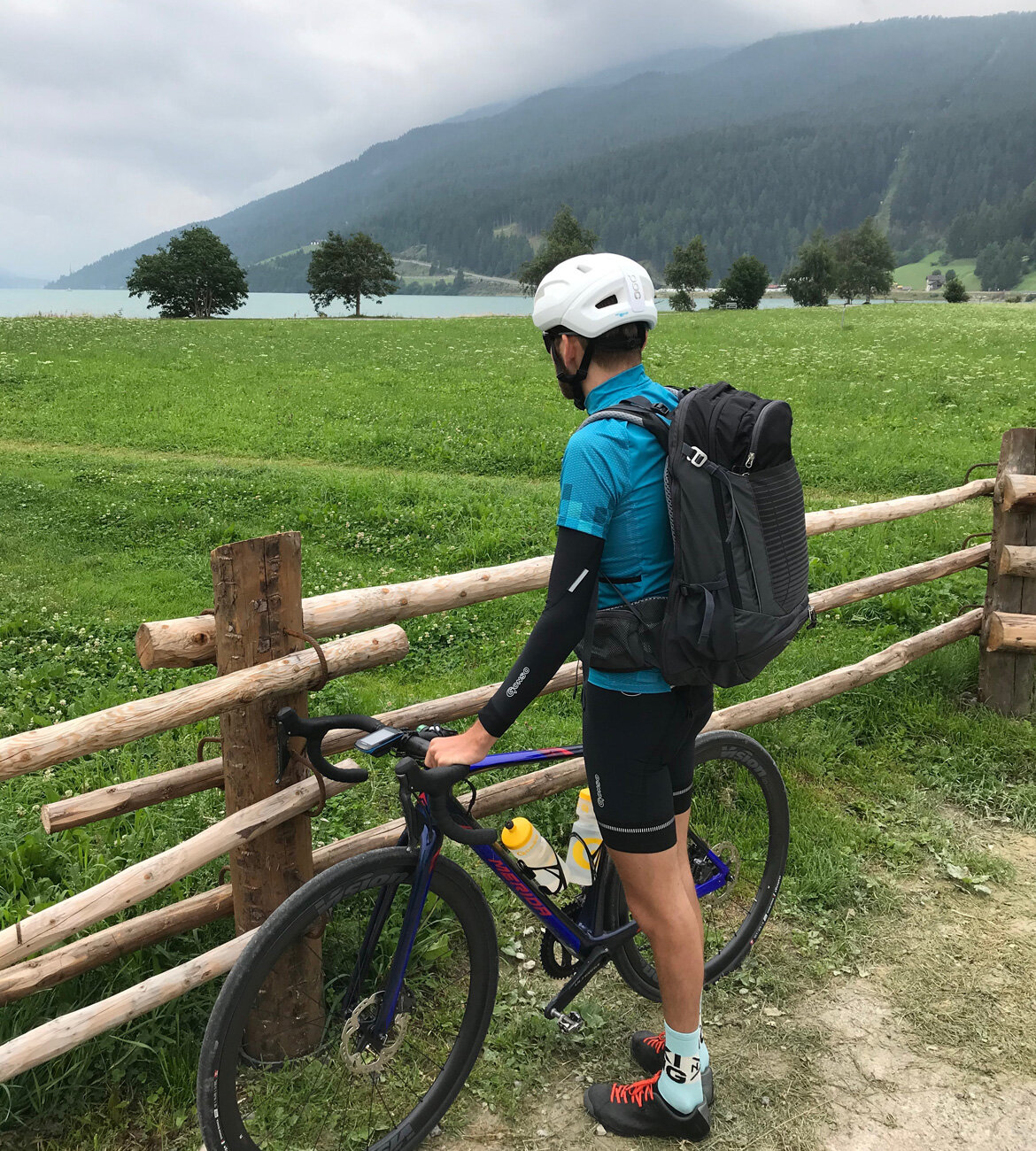 Enjoyable to the Lake Garda
On Day 2, we left Lake Reschen behind and rolled down the Vinschgau Valley to Merano in cool weather and light rain. From there, we continued along the River Adige. The last few kilometres of the 130 km second leg led us up to Appiano and on to Lake Kaltern, where we called it a day.

On Day 3, we got to enjoy the typical sunny weather in South Tyrol. We cycled along the River Adige to Rovereto in the Trentino region, clocking a few more metres of altitude on our way up towards Riva del Garda. On the last few kilometres of our descent from Nago down to Torbole, we were rewarded with epic views of Lake Garda. Some 100 km later, we reached our destination!
no color variants found: 103412
no color variants found: 203784
no color variants found: 103411
Equipment:
What clothing do I need for an Alpine crossing?

The general rule for multi-day bike tours is: less is more! Especially when going on a transalpine adventure, every gram that you don't have to lug up the pass counts. But at the same time, it's paramount to have the right clothing with you to be prepared for the unpredictable midsummer weather in the Alps.
Must-have gear:
• Bike shorts and trousers
• Jersey
• Wind vest
• Wind jacket
• Rain jacket
• Arm warmers
• Leg warmers
• Socks

Please note: This list is for transalpine tours only and the cycle gear needed for other types of bike tours may differ.

BIKE SHORTS AND JERSEYS
The best thing to wear on a longer ride is your favourite pair of tried and tested bike shorts. Depending on the length of your tour, you should take along at least one pair of shorts and one jersey in case you need to get changed.
Depending on your position on the saddle and on your preferences, our SITIVO bike shorts concept offers a variety of options to suit every cyclist's needs.

WIND PROTECTION
Even if the weather is nice, cool temperatures are nothing unusual in the mountains. Wind vests and wind jackets are an ideal extra layer to keep the wind out on longer descents. And with their compact packed size, they don't take up a lot of space either.

RAIN PROTECTION
A rain jacket is a key accessory for any Alpine crossing as you can't always rely on the weatherman when it comes to surprise thunderstorms and rain showers. Depending on your tour and the weather forecast, a pair of rain trousers may also be a good idea.

ACCESSORIES
Allowing you to turn a short sleeve jersey into a warm long-sleeved companion in the blink of an eye, for example, arm and leg warmers are the ideal addition to short cycle gear on a multi-day tour.

no color variants found: 203785
no color variants found: 103484